Your Website & Load Testing
Your website is a gateway to your enterprise for users around the world. It needs to be reliable so users don't confront issues when they most need to access information about your business, log in, or make a purchase. A solidly working website is the first step to successfully operating a business today. If a website repeatedly fails due to a surge in traffic, your business will certainly suffer.
The only way to avoid such problems is to get information and develop your website to handle surges in traffic, both anticipated and unexpected. Fortunately you can create a load testing plan to gain actionable insights and put structures in place that will help your websites weather any and all traffic.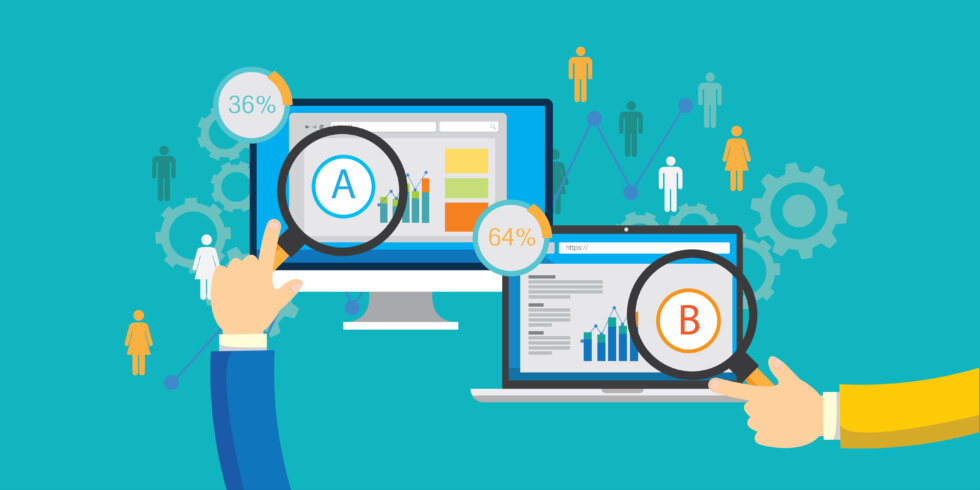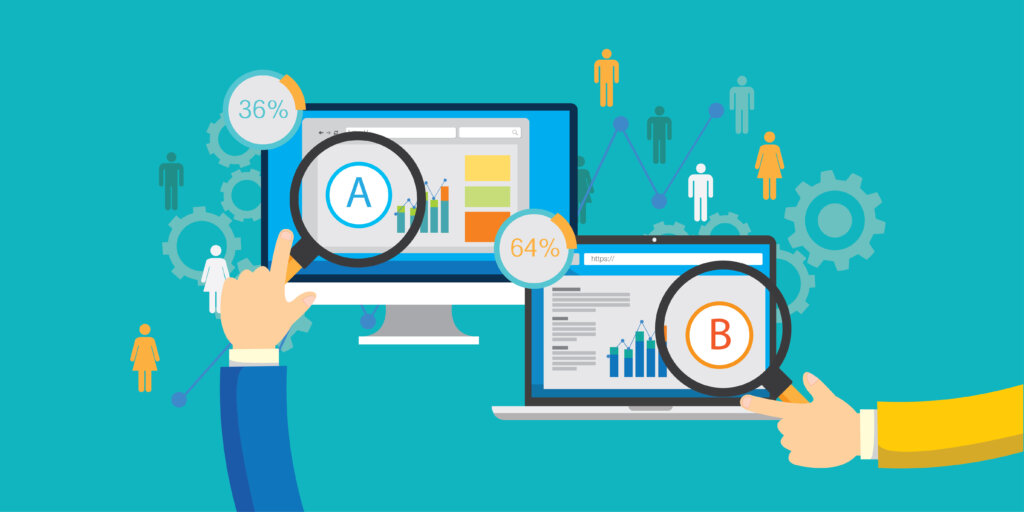 Load Testing Helps Prepare Your Website for Almost Anything
So how do we know what structures to put in place to prepare our websites for the unexpected? And how do we know our website is under threat of performance degradation or collapsing entirely?
The answer is regular load testing. Load testing is the process of putting load on your website to see how it will behave if it's flooded with users. Load testing helps you generate a workable plan to avoid failure under expected and unexpected circumstances.
Of course, you aim big. You're looking for success. You need to prepare for success, which means anticipating increased traffic and load to your websites.

Push Your Website to the Limit with Proper Load Testing
Load testing pushes a website to its limits. By putting increased load on your website, you can test it and learn what its weaknesses are. It's important to bend and stretch your website through testing so it doesn't break under pressure in the real world.
Our LoadView load testing tools will tell you exactly how much load your website can handle, so you can get ahead and increase resources for anticipated surges and identify technical issues with the site before they cause problems for actual users. A load testing tool like our LoadView platform, with its accurate and easily readable results, will help you accomplish every conceivable load testing goal. With LoadView you can prepare your website for practically anything, leaning on expert support and an industry-leading tool.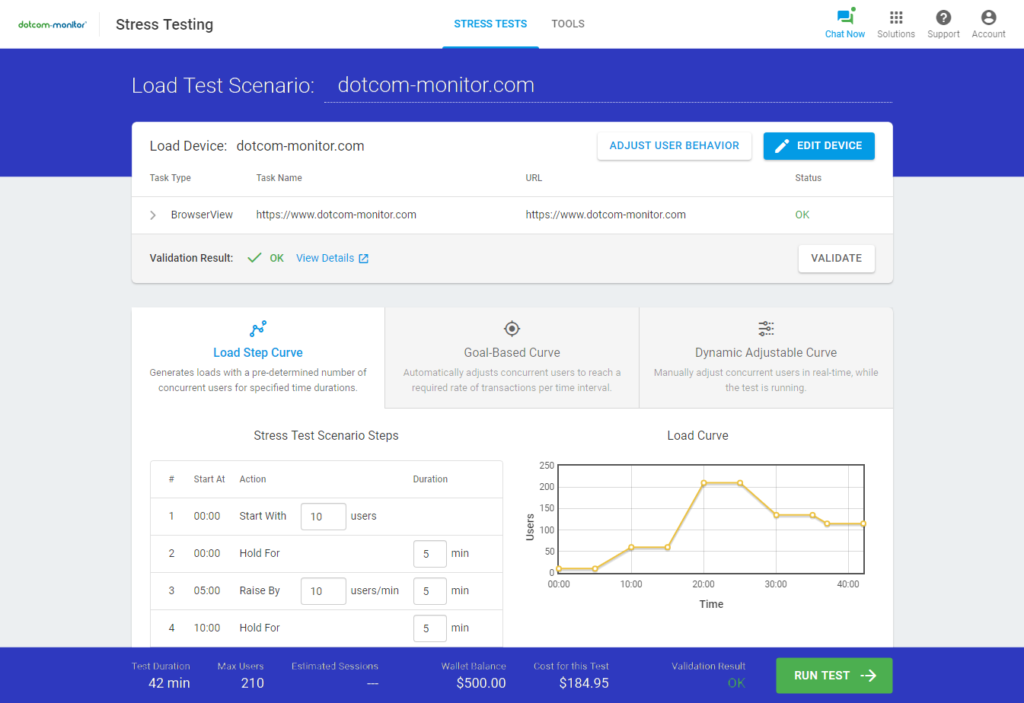 What You Need to Know About Load Testing
We've compiled a list of things you should know before you can embark on load testing. Because it's critical to know what aspect of your website or application you need to focus on, we will help you narrow down the search for the correct load testing tool by shedding light on the various functions you can test.
To get a baseline view, you can inject a single user into the system to see how your website responds.
For average conditions, you'll want to perform a regular load test with LoadView based on historical traffic data leveraging a tool like Google Analytics.
To see when and if your site breaks under severe pressure, you'll need to put it through a stress test.
To make sure no issues arise from protracted periods of high load, you'll want to perform a soak test.
How Many Users to Test With
In order to get an accurate idea of the number of users you want to test with, you'll want to refer to your website's existing traffic statistics. Historical data from Google Analytics or the like will help here. You can also consult your developers to see how many users they designed the website to handle and simply ask them what would happen if that load doubled, tripled, or went up 1000% from a surge.

Studying Analytics for Load Testing
Although you may have an idea of how your customers might interact with your website, don't make assumptions. It's best to study analytics to see what functions of your website are most used, which pages receive the most attention, and which don't perform so well. This will give you an idea of how to script your load tests.
With a load testing tool like our LoadView platform, the load testing process becomes easy. LoadView offers our EveryStep Recorder that allows you to simulate real user behavior on your website, enabling you to script the code exactly the way a real user might use it by simply pointing and clicking. This will give you more accurate results and insights to work with when making improvements to your site.

The Role of Your Team in Load Testing
We recommend involving more than one person in your load testing process. Your developer, your QA analyst, your CEO, and marketing team all could play a part in helping improve the performance of your website. Each of these players can provide valuable feedback and insights to your testing procedure and targets.
When in doubt, talk to a load testing expert. At LoadView, we will help you at every step of the load testing process.

Your Browsers, Your Machinery
Creating a testing environment involves having the right sort of hardware and software to emulate your user's behaviors. Of course, if a user accesses the website only with a mobile device, and you're testing with a PC, you may get skewed results. Therefore, it's important to align your tests with how a real user might behave. It's also important to see where your website receives the most traffic in terms of geographical location and arrange to test from those locations as well.
Then, to emulate real user behavior to as fine a degree as possible, you need to take into consideration the think time involved before users make decisions, their complexity of behavior as they run parallel web pages as well as multiple users accessing your website from multiple locations at the same time. LoadView helps you do all of this and more.
Analyzing Your Load Testing Results
You will also benefit from various points of view when looking at results. Making sure people in your team know about your load testing results might bring forth lots of different solutions and ideas you alone may not think of.
LoadView's accurate reporting features and easy-to-read metrics will save you a great deal of time communicating with your team. Understanding results may sometimes be difficult. With LoadView, however, you have access to the most user friendly reports possible and a team to help you understand them.

Development Resulting from Load Testing
Remedies to issues you uncover during load testing will take time. Changes to code, resource utilization, hardware optimization will all require an investment in talent and resources. But don't let these costs scare you. A properly functioning website is necessary for your business. The upfront cost of load testing and proper development will pay for itself through a high-performing website and peace of mind for you and your team. And your users will thank you.

Conclusion: Use LoadView for Regular Load Testing
Load testing may seem overwhelming to those unfamiliar with it. But if you build load testing into your development and QA processes, you'll be amazed at the results. Without load testing, you don't know how much traffic your website can handle. Isn't it better to be prepared?
Take a look at the powerful and intuitive load testing tools we make available at LoadView and consider a free trial and one-on-one demo with a load testing expert today.