Are you looking for new ways to take advantage of your online platform and bring in extra cash? Consider affiliate marketing with our programs at LoadView and Dotcom-Monitor. See our top 10 picks of SaaS affiliates for 2023 in this article.
Key Takeaways
Affiliate marketing is a growing industry that helps you make the most of your online presence and audience interest. Simply share a link and referrals that turn into paying customers generate income for you.
We recommend joining SaaS affiliate programs like ours at LoadView and Dotcom-Monitor. Start with one of our top SaaS affiliate program picks and begin to earn money online today.
Affiliate marketing is a $12 billion industry full of opportunities ready for the taking, but what exactly is it? How does it work, and how can you use it to make the most of your online presence?
We're here to teach you the basics of affiliate marketing and share some of the best products and services available to get you the most traffic and the highest commission available on the market. Let's do a quick rundown and everything you need to know before we get into our top choices of SaaS affiliate programs for 2023.

What Are SaaS Affiliate Programs?
Have you ever watched a YouTube video, listened to a podcast, or read an article where the creator shared a special link for you to use, brought to you by a sponsor? That's called an affiliate link, and they're a popular way to earn extra revenue online. When a creator becomes an affiliate for a product or service, they become a representative for that product and can market it directly to their audience. Every time someone clicks the link and becomes a customer, the affiliate earns a commission for sending them over.
SaaS, or software as a service, is a growing industry of online digital services. Unlike affiliating with a retail company selling physical products, SaaS companies effectively can't sell out of supply, maximizing your opportunity for profit. SaaS programs range from design platforms housing templates and assisting in web design, to ecommerce management and email marketing. There are a plethora of options, so you can find the right fit for you and your user base.

How Do Affiliate Programs Work?
Over 80% of brands use some sort of affiliate program to market to potential customers. So how do these programs work? First find out what kind of Affiliate program is right for you. Do you want a percentage of commission or a flat cash rate? Want design tools or ecommerce? There's no shortage of options, so look around and figure out exactly what it is you're looking for in an affiliate program.
From there, most companies have their own affiliate program pages on their site. We've included our top 10 picks below, so read further to get a better idea of the type of SaaS services you can promote, including our own LoadView and Dotcom-Monitor affiliate programs. This application process looks different for every SaaS program, but with so many to pick from you're guaranteed to find one that works for you.
Once you have the partnership secured all you have to do is post your affiliate link on your web page, social media, or other online platform to start bringing in new customers. Customers will click your personalized link, and you'll receive credit for sales your traffic generates.
It couldn't be simpler to earn passive income online through top SaaS affiliate programs, including our own LoadView and Dotcom-Monitor programs. Let's look now at our top ten picks so you can begin earning income online today, simply by driving traffic to great online services people genuinely need.
Our Top 10 SaaS Affiliate Programs
1. LoadView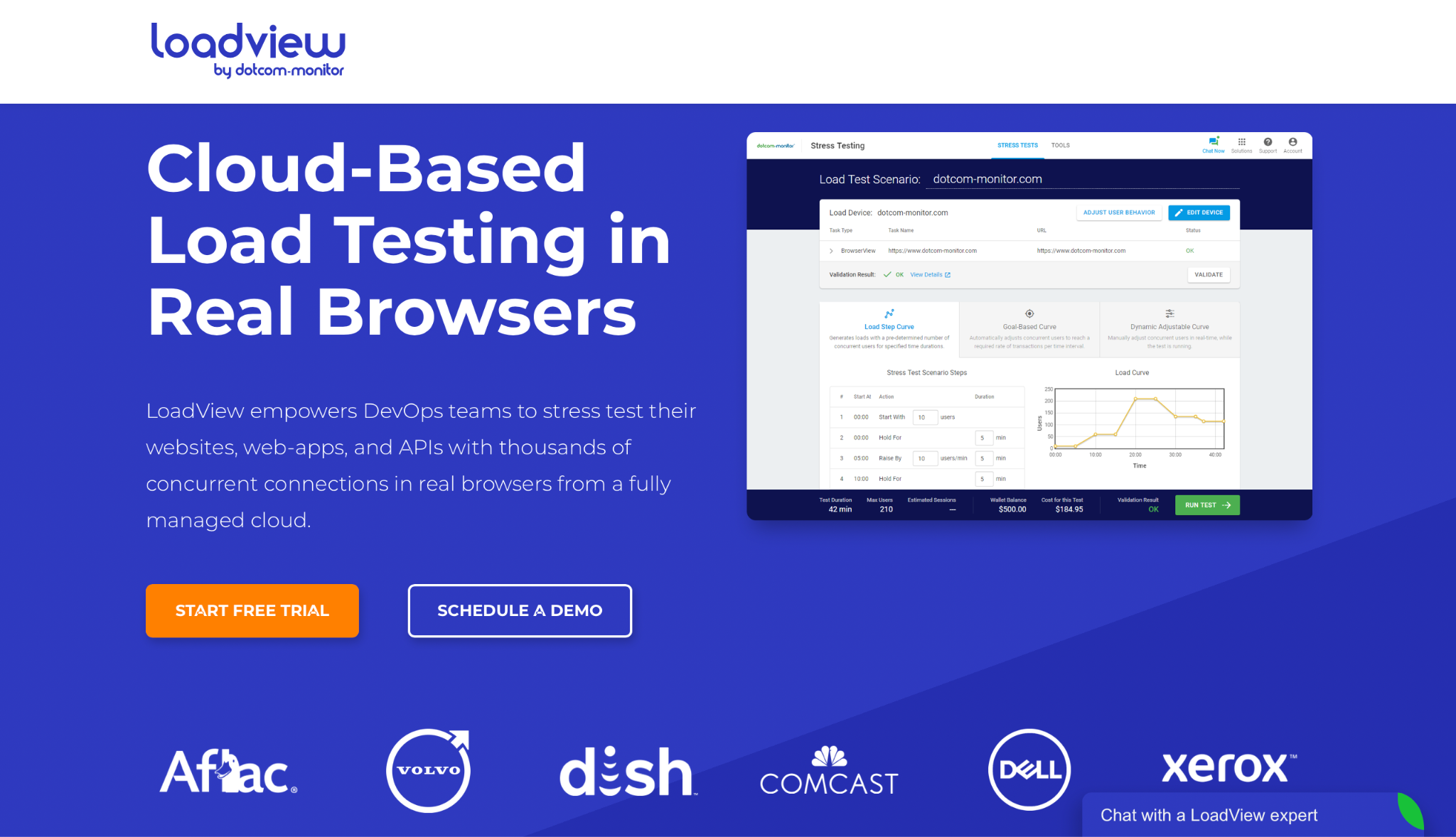 Partner program name: LoadView Affiliate Program
Commission: $100 per LoadView sale
Market location: Global
LoadView is a cloud based web performance testing platform from Dotcom-Monitor. Performance testing is essential to the development and proper maintenance of any website or web application, which makes LoadView useful for just about anyone looking to improve their websites or web applications. With functions like load, stress, and scalability testing, along with access to exceptional 24/7 support, LoadView will help you get your websites and applications to peak performance and limit downtime. LoadView makes it easy to collaborate and requires no knowledge of code, which makes it the top choice for diverse teams of marketers, designers, developers, and managers.
Once you're an affiliate with LoadView, earning from the program is as easy as recommending the platform as the best real browser performance testing on your site, in your email list, or on social media. From there, you receive a commission of $100 per LoadView sale for every referral user who spends a minimum of $150.
Our LoadView SaaS affiliate program is an ideal way to begin your affiliate journey. Join our trusted platform and help your audience discover the best real browser testing platform on the market.

2. Dotcom Monitor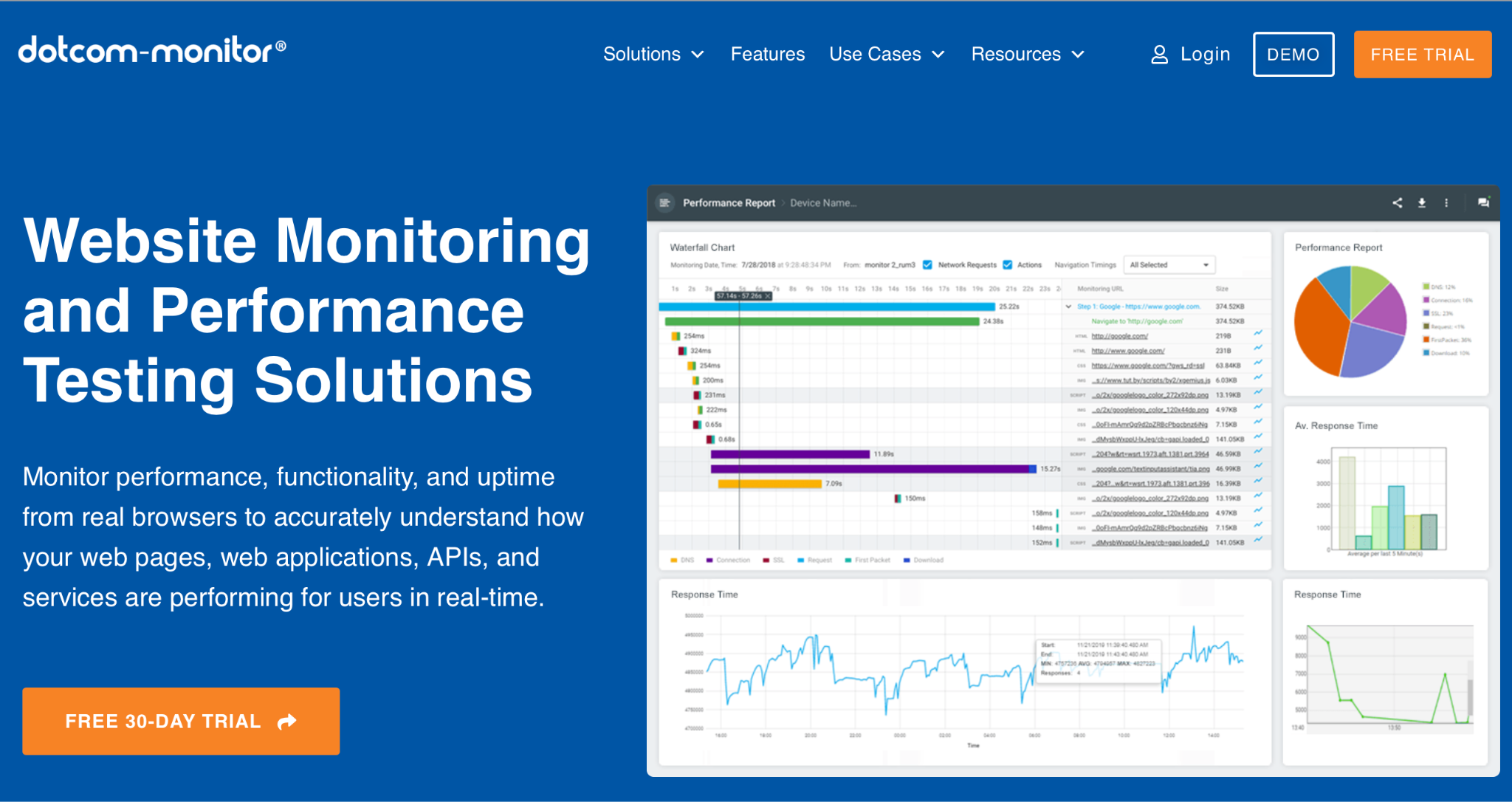 Partner program name: Dotcom-Monitor Affiliate Program
Commission: $85 per sale, more payouts after 90 days
Market location: Global
Dotcom-Monitor is the leading and comprehensive cloud based monitoring platform that has provided award winning service to customers since 1998. Developers and non-technical users alike depend on getting the most accurate information on their websites performance. That's where Dotcom-Monitor comes in to provide a wide variety of web services to monitor your website, web applications, and APIs from real users' perspectives, across devices and around the world.
Some of the services Dotcom-Monitor offers include:
Performance Monitoring
Infrastructure Monitoring
Web Services Monitoring for programs like SOAP, GET/POST, and SSL Certificates
Web Page Monitoring to understand your users browser experience in real time
Web Application Monitoring to improve functionality and accessibility
Once you join the Dotcom-Monitor affiliate program, you can easily referring customers to our award winning suite of web monitoring and performance testing services. Dotcom-Monitor is trusted by businesses like Comcast, Dell, Volvo, Xerox, and other major brands. Become an affiliate with Dotcom-Monitor and immediately benefit from onetime cash payouts of $85 per sale on all Dotcom-Monitor products and services.
Dotcom-Monitor pays a flat rate per sale, so you don't need to worry about promoting certain services or packages. After 90 days of paid service, you're eligible for a payout on all referral signups.
This program offers a competitive commission on an easy to promote SaaS program every serious business needs for its websites. It's obvious why our program at Dotcom-Monitor is a top choice if you're looking to join a SaaS affiliate program. It's as easy as sharing a link to meet your revenue needs. If you've never used an affiliate program before, Dotcom-Monitor paired with LoadView is a great place to start.

3. Shopify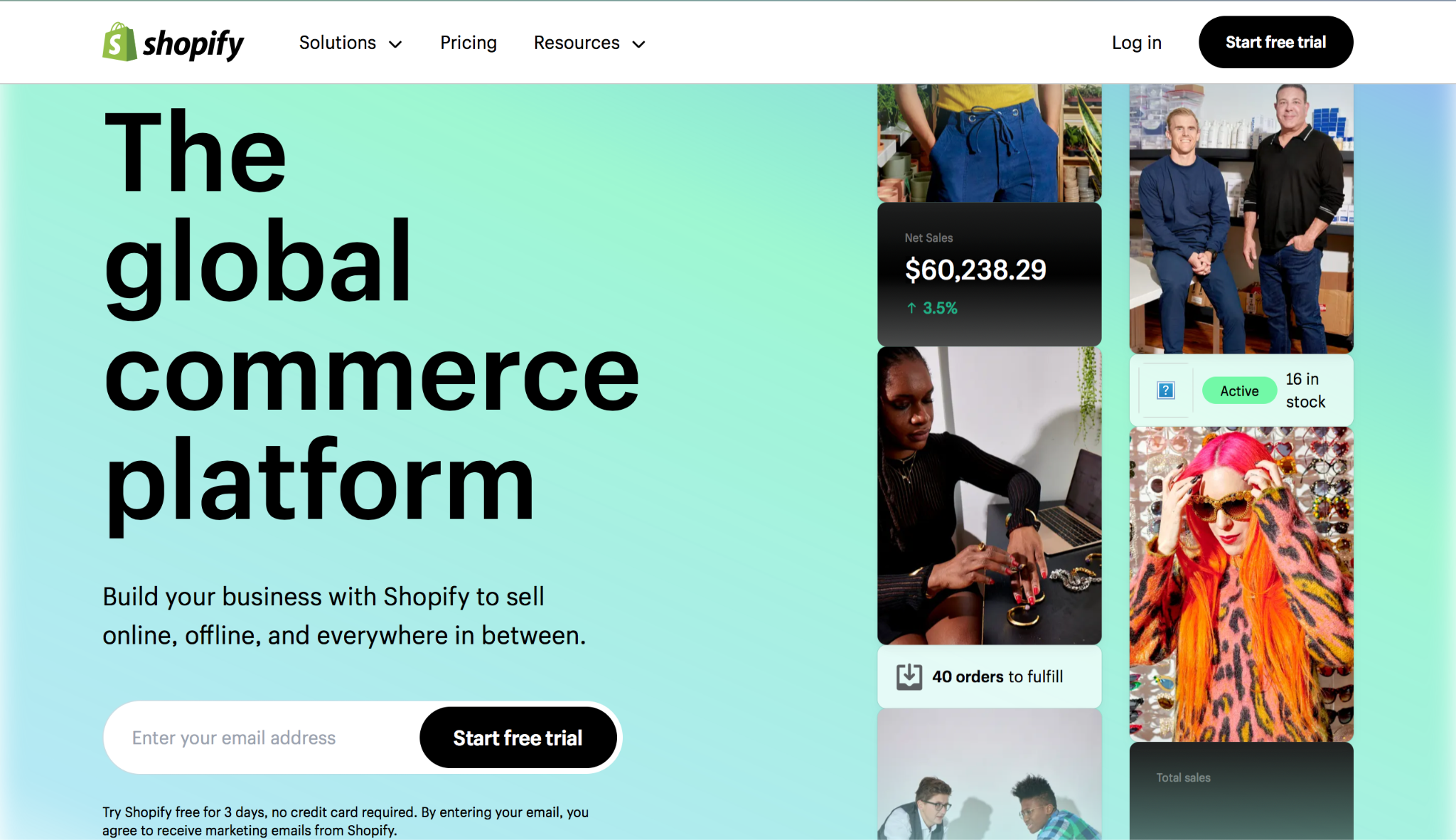 Partner program name: Shopify Affiliate Program
Commission: $150 per sale
Market location: Global
Shopify is a wildly popular ecommerce platform giving independent sellers a place to create stores and sell their products with as little fuss as possible. Shopify allows users to create ecommerce websites without needing to know code. A widely used platform for independent businesses, the Shopify affiliate program reflects this and is an easy sell to anyone who wants to do independent ecommerce.
Affiliates typically earn $58 per signup and receive a 200% reward per merchant referred to Shopify, or two times the price of the monthly plan chosen by the merchant if they stay with Shopify for two months.

4. Moosend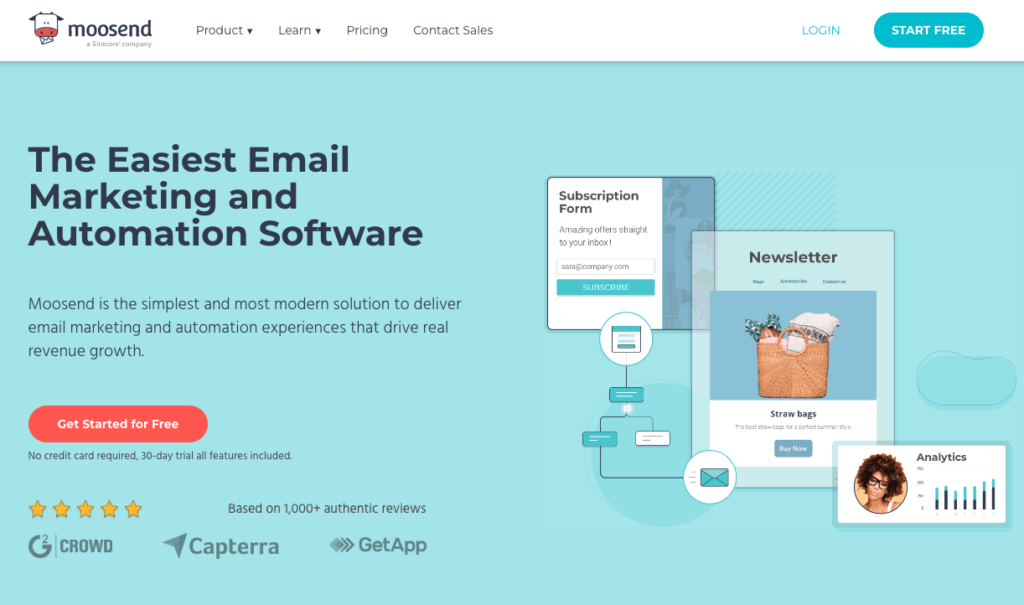 Partner program name: Moosend Affiliate Program
Commission: 40% recurring monthly commission
Market location: Global
Moosend is a popular email marketing program and a lot more. They offer marketing automation, landing pages, subscription forms, analytics and a lot more. Any business that engages in digital marketing can benefit from Moosend, lay claim to offering the simplest and most modern solution to deliver email marketing and automation that drives revenue.
The Moosend affiliate program offers up to a 40% recurring monthly commission for every referral who signs up, with real-time statistics so you can see how your links are performing and a 120 day cookie, with quick payouts

5. Podia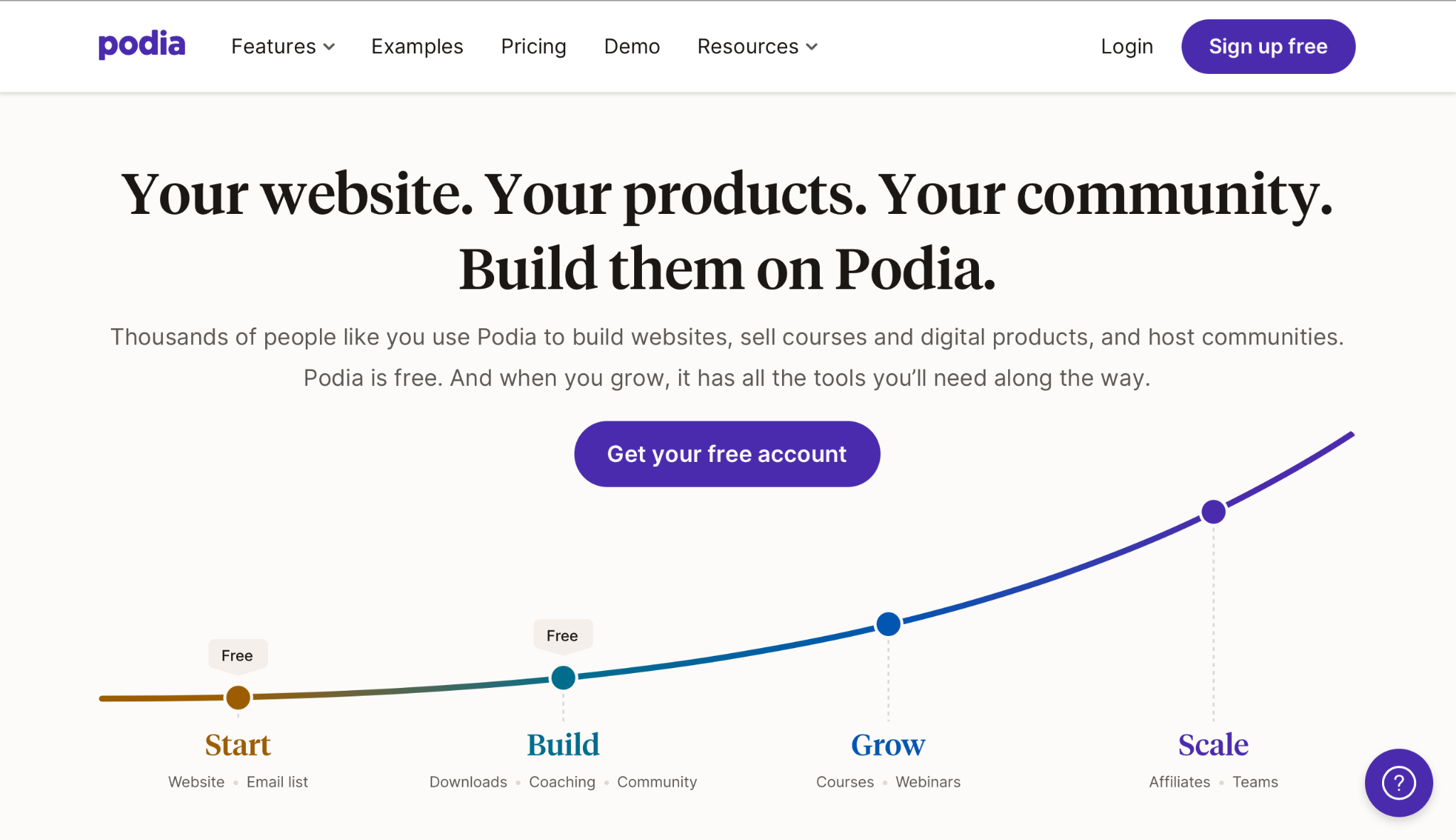 Partner program name: Podia Affiliate Program
Commission: 30% commission
Market location: US
Podia offers online courses, and can even help creators make their own courses. Buy and sell ebooks, audio books, coaching sessions, webinars, PDFs and more, to create a new course or access learning. Memberships are based on recurring fees, and members receive email updates for their course and Podia's services.
Podia's affiliate program offers commissions of 30% every month a referred member stays active. The basic plan for Podia is a base rate of $39 per month. And unlike its primary competitor Teachable, there is no transaction fee for users.

6. Iconosquare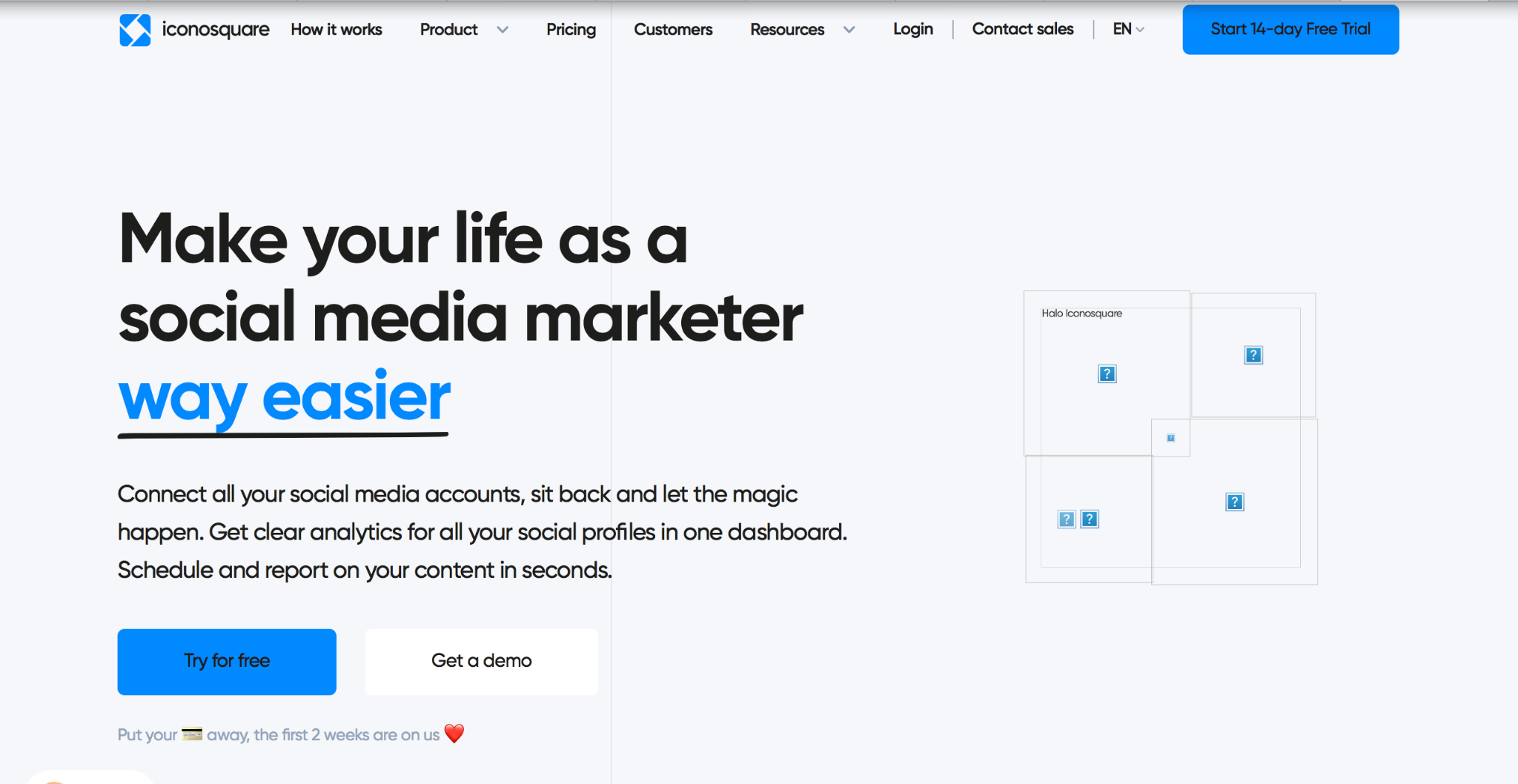 Partner program name: Iconosquare Affiliate Program
Commission: 15% recurring commission
Market location: US
Iconosquare helps people who want to build their social media network through management, analytics, and scheduling. For brands and individuals alike, Iconosquare can help you expand your reach on Instagram, Twitter, and Facebook.
Its base fee is a $49 per month subscription package and provides a 15% recurring commission for affiliates, so this can be a lucrative addition to your affiliate marketing plan.

7. Media Mister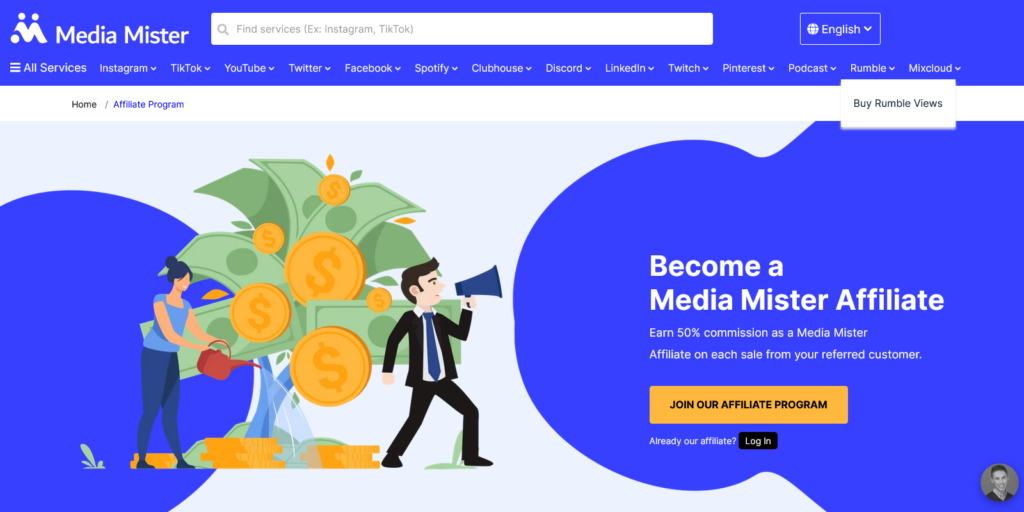 Partner program name: Media Mister Affiliate Program
Commission: 60% commission
Market location: Global
Media Mister is one of our top picks for a SaaS affiliate program. They offer a wide range of promotional services to boost your presence on all social media platforms "at rock bottom prices."
For affiliates, they offer one of the most generous and potentially profitable commissions available today, at a whopping 60% with a 365-day cookie.

8. SocialBee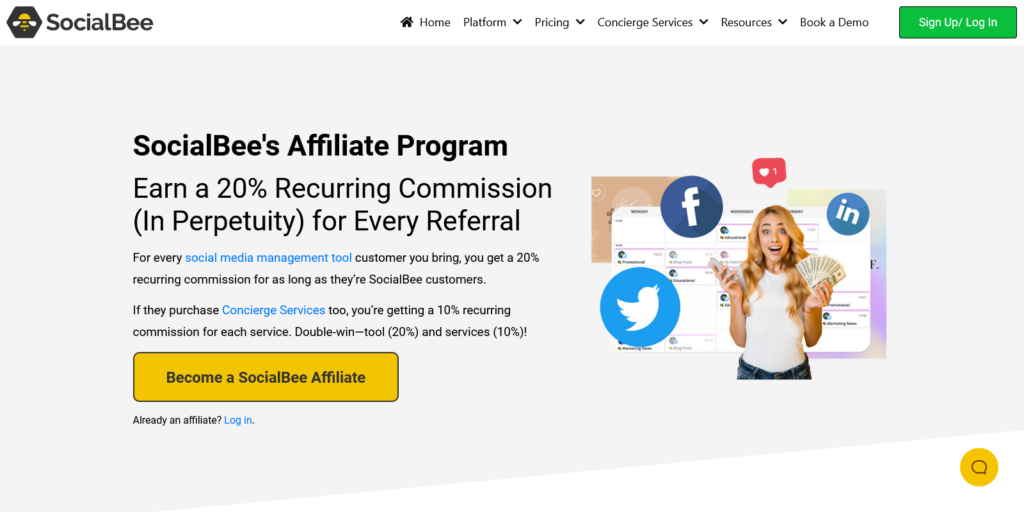 Partner program name: SocialBee Affiliate Program
Commission: 20% recurring commission
Market location: Global
SocialBee is a powerful and popular social media management tool individuals and teams use to share content across profiles.
The SocialBee affiliate program offers a 20% recurring commission for every customer referred, in addition to one-time rewards as part of challenges and contests. Sign up and make use of their 90-day cookie duration for your links, as well as many ready-to-use resources. They also allow affiliates to grow and unlock three levels with additional benefits, including a free SocialBee plan, custom landing page, discount codes, increased commissions, and more.

9. Elementor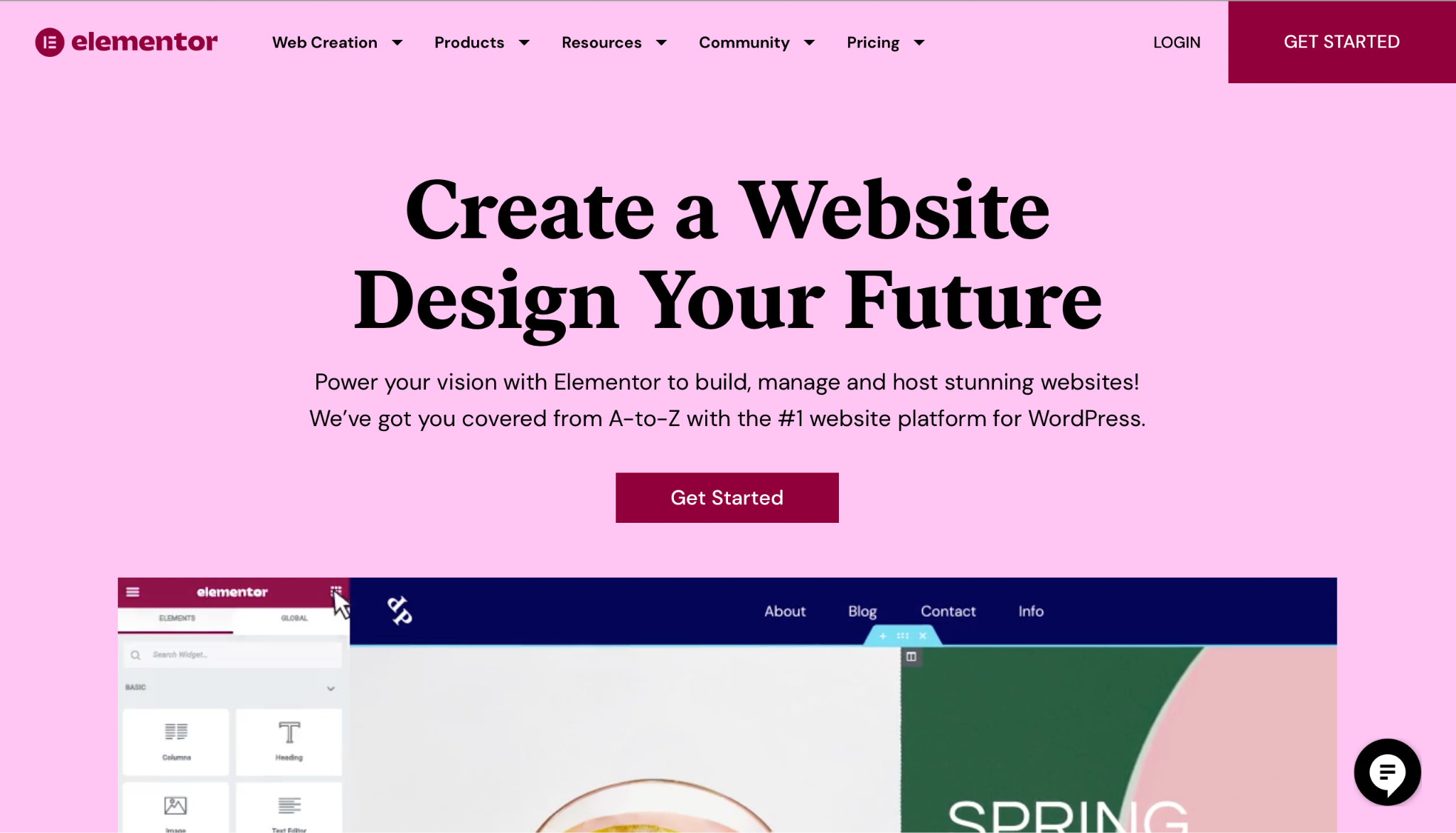 Partner program name: Elementor Affiliate Program
Commission: 50% commission
Market location: US
Elementor is a powerful, easy-to-use WordPress builder designed to help designers, marketers, and developers build and maintain outstanding websites. Elementor helps even non-technical users design and edit responsive websites with an array of fonts, motion effects, background images, and more.
Elementor's paid plan starts at just $49 a year and offers a high commission of 50% to affiliates, making it a solid SaaS affiliate program.

10. Semrush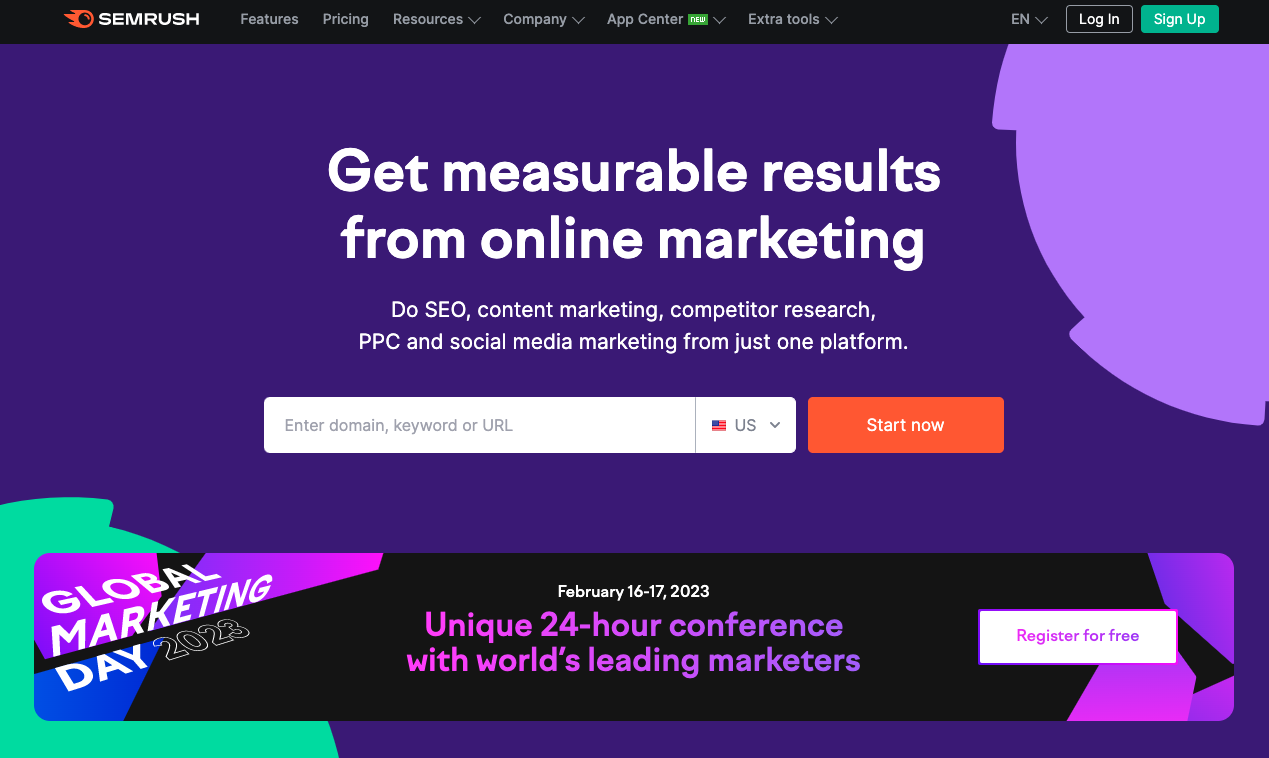 Partner program name: Semrush Affiliate Program
Commission: $200 commission per new sale, $10 per new trial, $0.01 per new signup
Market location: US
Semrush is a Boston-based, highly successful online marketing platform that focuses on competitive analysis for digital marketers. Used by high profile clients like Forbes and Tesla, Semrush is a reputable affiliate programs for those who want to promote established, credible brands. Perks for Semrush users include help with social media, SEO, and link building services.
Semrush's services start at $119 a month and increase to $1,070 per month for larger clients. Promote award-winning tools used by over 7,000,000 marketers, and earn $200 for each Semrush subscription sale, $10 for new trials, $0.01 for every new sign-up

Join an Affiliate Program Today
Joining an affiliate program is one of the easiest ways to start earning money through your online platform. Whatever your revenue goals are, affiliate programs can be a step in the right direction to monetizing your audience's interest and needs. We've provided a diverse list of SaaS companies looking to affiliate with anyone with an online presence. You're already online, so why not make the most of it and start generating revenue from your audience's interest?
SaaS is a growing industry looking to take advantage of affiliate marketing to expand their reach. SaaS programs also offer some of the most lucrative commissions, everything from onetime $100 payouts to 85% commission, you have a very good chance to make a profit with any one of the programs we listed above. If you haven't taken advantage of affiliate marketing yet, now is the ideal time to start.
Check out any of the programs above and sign up for an affiliate program to start bringing in extra income today.