This post weighs the differences and similarities of paid load testing tools in contrast to JMeter, which is open-source and free. We'll help you weigh which direction to take in your website and application load testing.
The Factors
JMeter has been around since 1998 and seems to have preferred status among certain experts who use website load testing tools. While deciding whether JMeter or some other paid load testing tool is better for your organizational needs, there are a few factors you should look at:
Budget
Maintenance
Customer Support
JMeter may be a good resource for somebody well-versed with Internet technologies, but for those unfamiliar with load testing, or those who want a quick, comprehensive, and professional solution without hidden costs, a paid service such as our own LoadView is almost certainly the better option. Let's look more closely.
Trade-offs: JMeter vs. Paid Load Testing Tools
While JMeter initially comes without an up-front cost, there are a variety of costs that stack up as you go about advanced load testing with it. With JMeter, you'll be left to your own devices unless you hire an expert consultant, whereas with LoadView you'll have the support of a dedicated team. We're always innovating and bringing new tools to our clients, and our support is second to none.
JMeter does have a large library of online resources available that can help troubleshoot issues and provide a general overview of how the load testing tool works. That said, the JMeter community won't be as accessible or accountable as the official support we offer at LoadView. You can think of LoadView as your partners for all things load testing, which is something you won't find through an open-source load testing tool.
Pros & Cons
Cons of JMeter as a Load Testing Tool
A lack of a roadmap for load testing is one issue with Apache JMeter in contrast to a paid load testing solution. The learning curve with JMeter can be steep and requires technical knowledge some users may not have. This, of course, can become an obstacle over the long run because of the amount of time it takes to learn to use JMeter to achieve accurate load testing results. Contrast this to LoadView, which you can begin to use in minutes.
Because JMeter is open-source, its reputation isn't on the line the same way a paid service is. By paying for a comprehensive testing tool like LoadView, you have the accountability of an industry-leading business. We back our tools with expert support and comprehensive documentation with the aim of making your load testing workflow easy and effective.
Cons of Paid Load Testing Tools
Paid load testing tools leverage proprietary software users cannot manipulate directly outside of fixed boundaries set by the provider. A power user may not want to be "locked-in" with a particular code that a paid load testing tool vendor is selling, and may actually want to learn how to use JMeter with all its complexity. Very advanced users may default to JMeter to save the expense of a paid service.
The user may want to access the code to manipulate it to emulate real-life scenarios that are specific to their system. Such a level of manipulation may not be possible with a paid load testing tool that has its code encrypted, and therefore, not visible to the public. The user would be stuck with a certain version of load testing that they want the user to access. That said, a paid service such as LoadView does offer an enormous range of options and custom support to meet effectively every load testing scenario. Whatever your load testing needs, the LoadView platform can almost certainly help.
Paid load testing tools may sometimes have a high cost attached to them, which may outweigh the cost of using JMeter if the user is already familiar with the system and has everything needed in order to operate it. Even at a higher cost, paid load testing may be worth it in terms of money saved and accuracy of results. When you consider how vital load testing is to the success of your website or application in terms of user experience and your ongoing development, doesn't it make sense to work with professionals dedicated to giving you the most accurate results possible?
Some Benefits of JMeter as a Load Testing Tool
If an organization wants to start small and then scale according to their needs, this becomes possible with the help of an open-source load testing tool like JMeter.
An odd but true advantage of using JMeter is its ability to attract the right talent for your company. As has been mentioned before, JMeter requires a high level of training to use. Therefore, if there're people in the organization willing to learn the code, or if the user needs to hire more people who have advanced knowledge of code, then it's a win-win situation for the user.
Maintenance costs can be shared. Since JMeter is an open-source load testing tool, its code can be developed and shared with multiple people. In this way, the user can save costs involved with using a paid load testing tool and being the only user that has access to the load testing tool.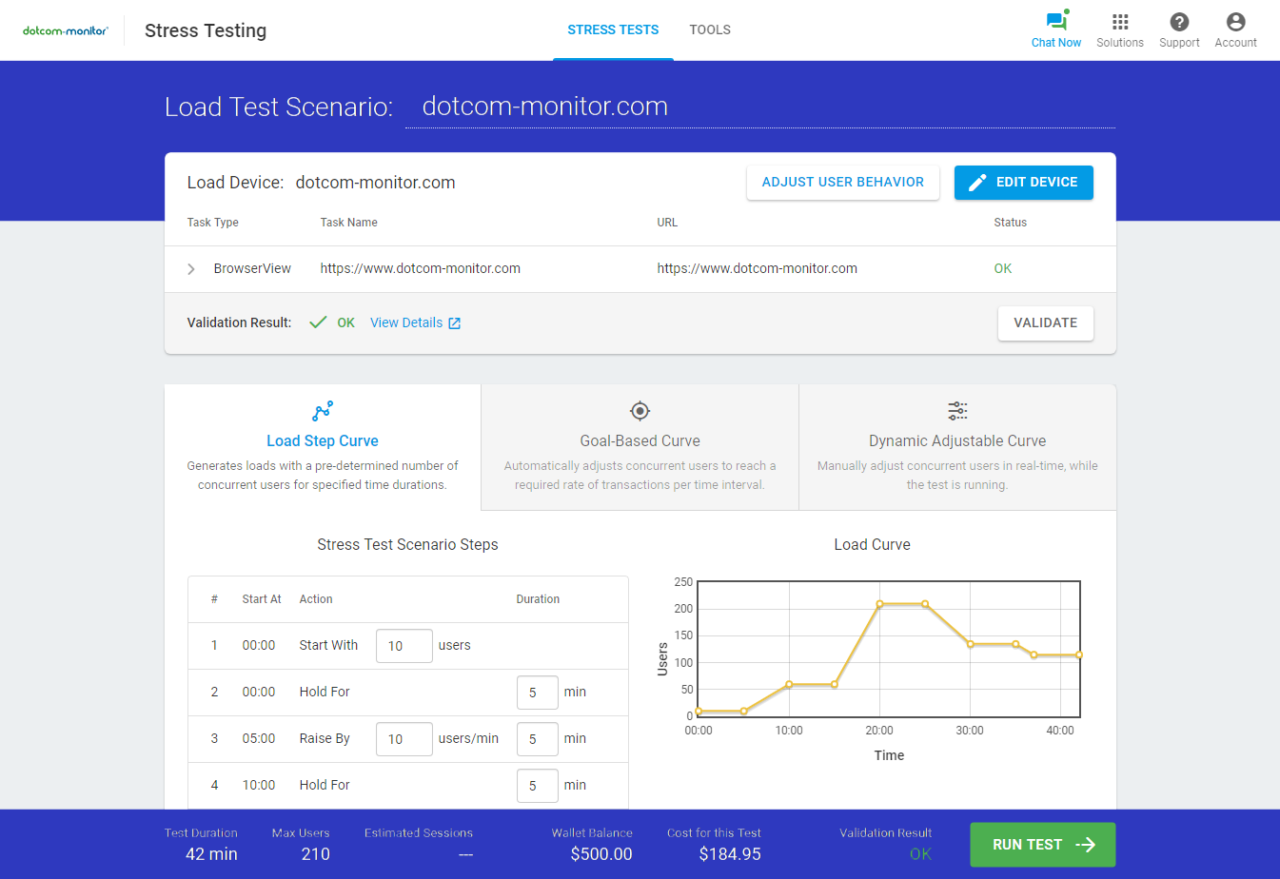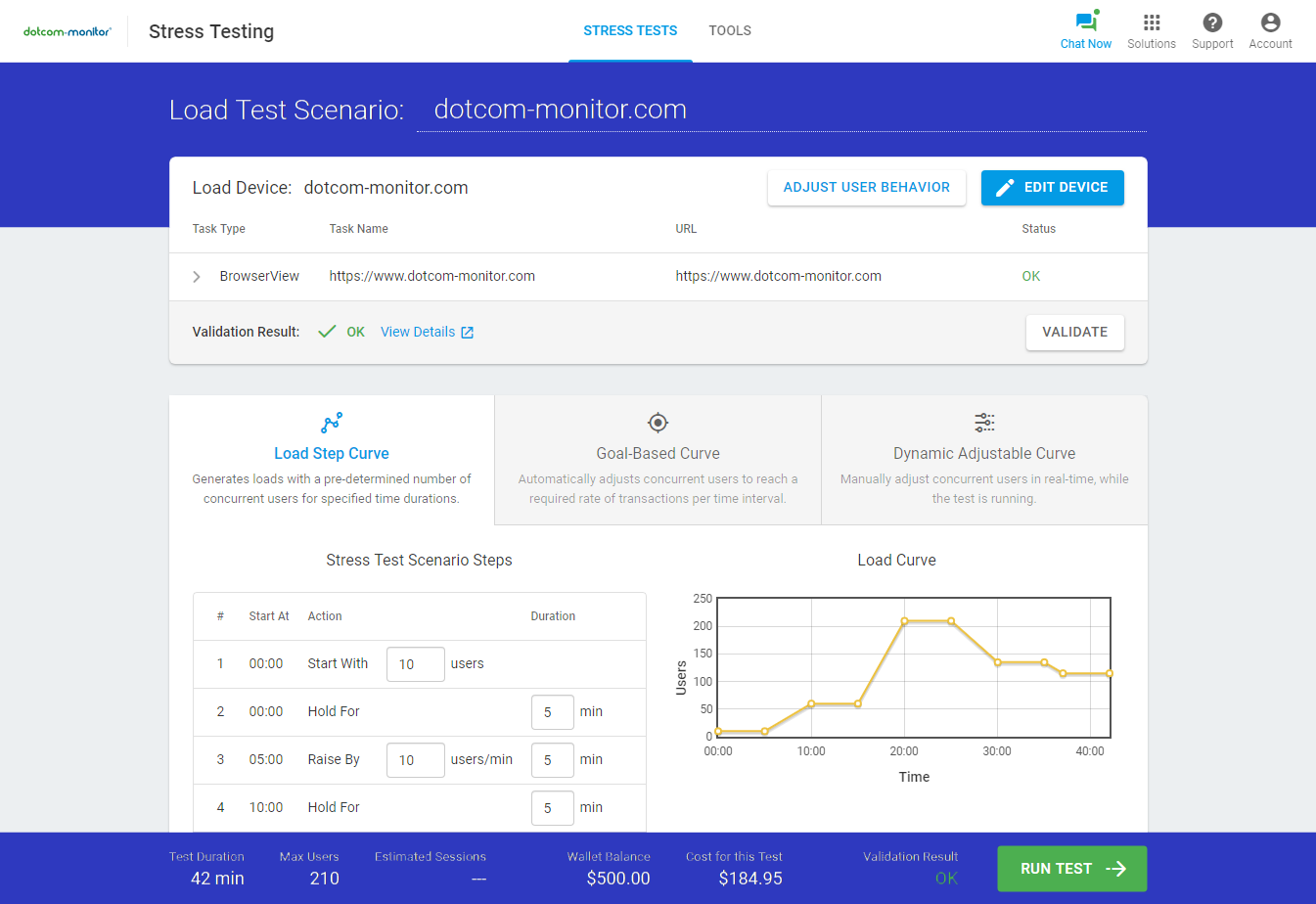 Advantages of Paid Load Testing Tools Like LoadView from Dotcom-Monitor
A huge advantage to using a paid load testing tool like LoadView is stability. The software goes through a lot of revisions by the vendor, and therefore, there is little chance that the user will find a fault with it. After all, their company reputation depends on being able to provide the best bang for the buck.
A great user interface is another good quality of a paid load testing tool. Of course, the user wants the best experience for themselves. Something that you can't get with an open-source load testing tool like JMeter is the luxury of having a dashboard, a good metrics system, performance analysis, playback and the list goes on.
Finally, as mentioned before, customer support is the backbone of any vendor selling a paid load testing tool. The vendor's ability to provide customer service to their users will spell the success of failure of the vendor's load testing tool. Therefore, there's a lot at stake for paid load testing tools, which makes them invest more into it.
How Does JMeter Finally Compare to Paid Load Testing Tools?
JMeter has been around for decades and is thoroughly documented, so it's the go-to open-source load testing tool. However, user demands and needs rapidly change as the load testing industry adapts to users' needs. Some people may prefer the hands-on nature of JMeter and enjoy the relative freedom an open-source load testing tool affords. JMeter can be a helpful DIY load testing program for power users who don't mind learning a bit of code or digging for support and documentation.
That said, LoadView offers real value, easy of use, and industry-leading support. For someone who wants to work with true experts and not do it all themselves, LoadView is the clear choice. The final verdict? There's a bit of a price to pay for paid load testing tools but there's a lot of time saved and peace of mind acquired through using them. Consider LoadView for your load testing, schedule a one-on-one demo, sign up for a free trial, and start load testing today in minutes.